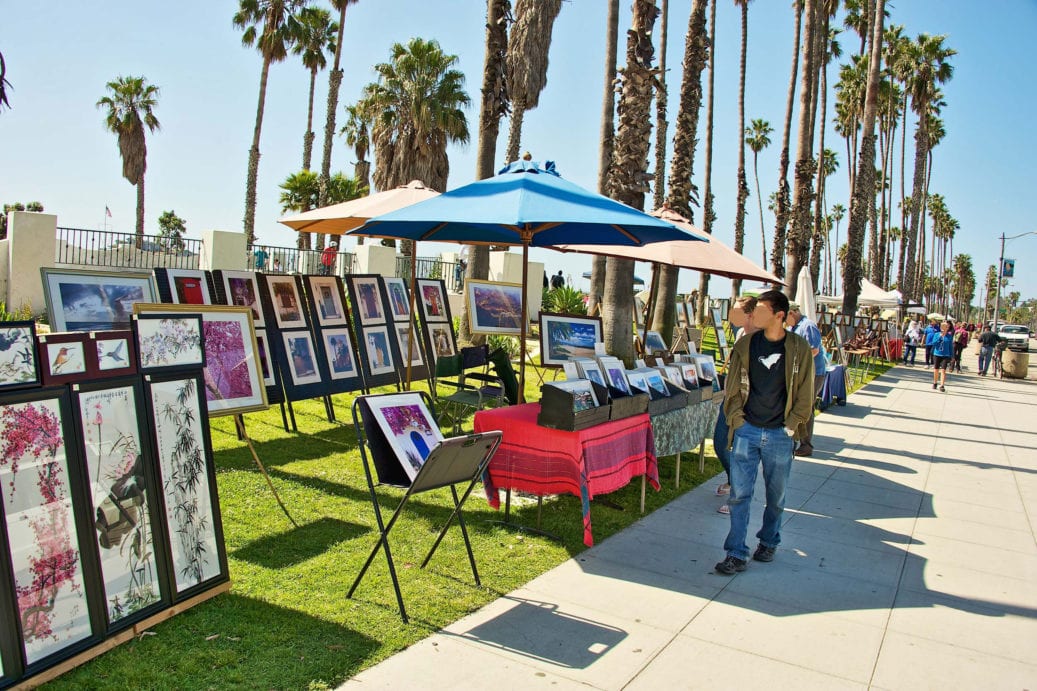 Sept 2020 – Santa Barbara Art Walk Excursion -Early Bird Prices
$65.00 – $72.00
Description
Morro Bay Art Association is pleased to offer an excursion to the Santa Barbara Art Walk.
Come along!  This event will feature approximately 200 Santa Barbara County resident artists displaying their own original work in an informal outdoor venue oceanside, which encourages visitors to talk directly with the artists.  Some artists may even be painting and creating while you watch!

The Santa Barbara Arts and Crafts Show was established in 1965 by local artists, inspired by the sidewalk art shows of Europe and the prestigious "Jardín del Arte" in Mexico City. 
Sponsored by the City Parks and Recreation Department since 1966, the show is now the only continuous, non-juried arts festival of original drawings, paintings, graphics, sculpture, crafts and photography in the world. Whatever the size, subject, media and price, all are original art, done by the artists you meet. 
If you've been to the Art Walk, you know how fun it is, so come along and enjoy the day without having to make the drive yourself.  If you haven't been to the Santa Barbara Art Walk, come along for a great day of discovery, great art and wonderful food.
We'll have a charter bus pick us up in Morro Bay and deliver us directly to the Art Walk. We'll have about 3 ½ hours to explore, eat, and maybe do a little holiday shopping!

Wear comfortable walking shoes and layered clothing.
Pre-registration is required. Refunds will be given for cancellations made ten (10) days prior to excursion with the exception of a $20.00 non-refundable, registration fee.

WHAT: Excursion to Santa Barbara Art Walk
WHERE: Bus leaves at 8am from the Morro Bay Library, 625 Harbor St. There is parking on Dunes, Kennedy, and Shasta, as well as in the library parking lot.
WHEN: Sunday, September 13, 2020, 8am – 5pm
CONTACT: (805)772-2504 or www.artcentermorrobay.org
COST: $72.00 Members or $79.00 Non-Members  
  Early Bird discount before August 8th is $65.00 MBAA Members
  Early Bird discount before August 8th is $72.00 Non-Members
REGISTER: www.artcentermorrobay.org/index.php/product/santa-barbara-art-walk-excursion/
or call Gail Martin 805-234-8766