Mixed Media Basics (5) Wednesdays - April 21-May 19, 2:00-3:30pm (PDT) (Live Online Workshop)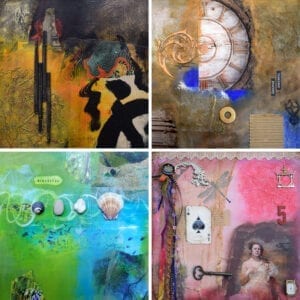 Mixed Media Basics
Wednesdays April 21-May 19, 2:00-3:30pm (PDT)
Mixed Media Basics | 5-Week Class
$95 Non-member $85 Members
Mixed Media Art is the ideal medium to explore your creative side without the pressure of having to be artistic or create a perfect piece of art. In this live Zoom workshop you will combine acrylic painting, collaging, texturizing and, adhering found objects. You will also learn the basics such as working with acrylic paints & medium, basic color mixing and composition. You will end up with 2 final mixed media pieces by the end of the class. Have fun blending a variety of mediums and techniques to create art that is rich, dimensional & unique. The magic happens when we welcome accidents and mistakes to happen. In this class you are free to discover what organically unfolds. This class is ideal for anyone with little or no prior art experience and is the perfect introduction to mixed media.
WHAT: Mixed Media Basics
WHEN: Wednesdays, April 21 through May 19, 2pm – 3:30pm
WHERE: Live Online (ZOOM)
COST: $85. MBAA MEMBERS AND $95. NON-MEMBERS
Materials:
9 x 12 in. (140 lb.) Watercolor or Mixed Media Paper
Acrylic Paints (Variety of Colors + Unbleached Titanium White OR Buff)
Paintbrushes (1"-1/2" wide)
Paint palette, butcher tray or plastic plate (for mixing paint)
Cup (for water & brushes)
Spray bottle with water
Gesso & Palette Knife
Matte Medium, Decoupage (Matte) OR Mod Podge (Matte)
Cheesecloth
Hairdryer
Collage materials
Scissors
Plastic Putty Spreader or equivalent
Tissue Paper (white or any color)
Crafter's Pick The Ultimate (OR E6000-keep in mind this is toxic and should be used in ventilated areas)
Collection of Found objects
(2) 8 x 8 inch preprimed art boards (you're free to work on more then 2 completed pieces)
For those unfamiliar with Zoom or feel a little intimidated by attending a workshop online. Lisa is happy to help guide you thru the process before this workshop begins.  For questions about materials or help attending this workshop online, please contact Lisa by email: lisa.agaran@gmail.com
Refunds available up to 2 days before scheduled workshop.