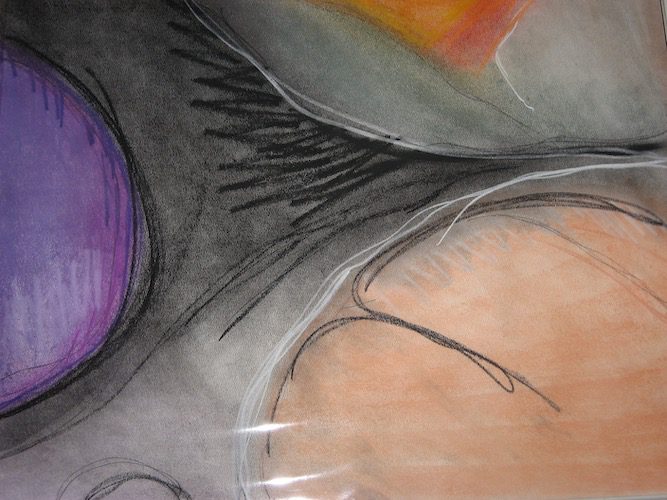 Abstract Explored Workshop - Jan 31 10-1pm
Morro Bay Art Association is proud to present a workshop in abstract drawing and painting
with artist, Vicky Hoffman
Class description: This workshop introduces you to abstract drawing and painting. You will
explore color, texture, shapes and mark making that will improve composition and
improvisation. This workshop is designed to expand your ability to enjoy and respond to
abstract art. This is the one workshop that requires a minimum of 8 people so please sign up
early.
About Instructor: Born in Los Angeles, California, Vicky lives and works in her home studio. She
holds a BA in Art from San Diego State University with an emphasis in glass and metal-smithing.  Over
time, her work migrated to oils, acrylics and encaustic.
Vicky's work is grounded in nature and is an exploration of the gritty side of nature. She focuses on
shapes and interesting colors. She strips away all of the extraneous material until the only thing remaining
are those shapes and colors. Weaving together the intricacies of the natural world with an
abstract environment, she creates new and unique surroundings.
She has appeared in several solo and group shows at San Luis Obispo Museum of Art, Chaffey
Community Museum of Art, Gallery 825 in West Hollywood, TAG Gallery in Los Angeles, Segil Fine Art
Gallery, FIVE 08 Gallery, Arena 1 Gallery and many more.
Vicky is a member of Los Angeles Art Association/Gallery 825. Her work has appeared in Kolaj Magazine
and Fabrik.
COST: $75 Members; $85 Non-Members for this one-day workshop.
***All materials are included in the cost of the class
WHERE: Art Center Morro Bay, 835 Main Street, Morro Bay, CA
WHEN: Monday January 31, 2022
TIME: 10:00 am -1:00 pm
ADDITIONAL MATERIALS: Participants are encouraged to bring an apron and inspirational
material (about three items.)
PRE-REGISTER: Reserve your space online: https://artcentermorrobay.org/index.php/shop/
May cancel registration up to 7 days of scheduled workshop for full refund. All attendees must
wear a mask and show proof of Covid Vaccine at the first day of class.
CONTACT: 805-772-2504 or www.artcentermorrobay.org