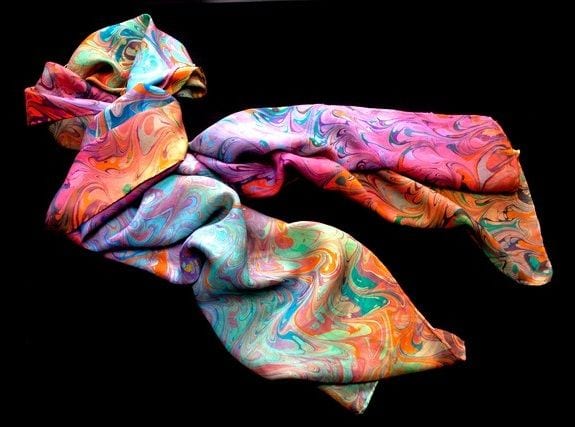 August 21, 2021 - Dying Silk Scarves with Sharon Gellerman
Morro Bay Art Association is pleased to present a ½ day workshop, "Dyeing Silk Scarves with Sharon Gellerman.
Sharon Gellerman is a local artist who creates one-of-a-kind, hand-marbled, silk scarves and silk tallits. Sharon has a fresh and modern interpretation of the classical art of marbling on fabric.
Through experimentation with color, technique and dye, she has refined her style and designs. Her sense of art has been greatly influenced by memories of Israel and her love of the California Coast. These elements are reflected in the intricate patterns and vibrant colors of her textile designs. These complex designs and skillful use of color make each scarf or tallit a unique and wearable piece of art.
During this workshop every student will dye their own unique scarf. Sharon will guide you through the process and techniques used to obtain beautiful patterns and colors within the silk scarf. All materials, tools, and supplies are provided for you.
WHEN: Saturday, August 21, 2021 - 10am-1:00pm
WHERE: Art Center Morro Bay, 835 Main St. Morro Bay, CA 93442
COST: $45. MBAA Members $55. Non Members
All materials are provided and included in the workshop registration fee.
CONTACT: Art Center Morro Bay (805) 772-2504 www.ArtCenterMorroBay.org
Pre-registration is required:
Register Online: www.ArtCenterMorroBay.org
Refunds for cancellations up to 7 days before workshop
Pending Covid Restrictions, we ask that you continue to wear facial coverings while indoors.