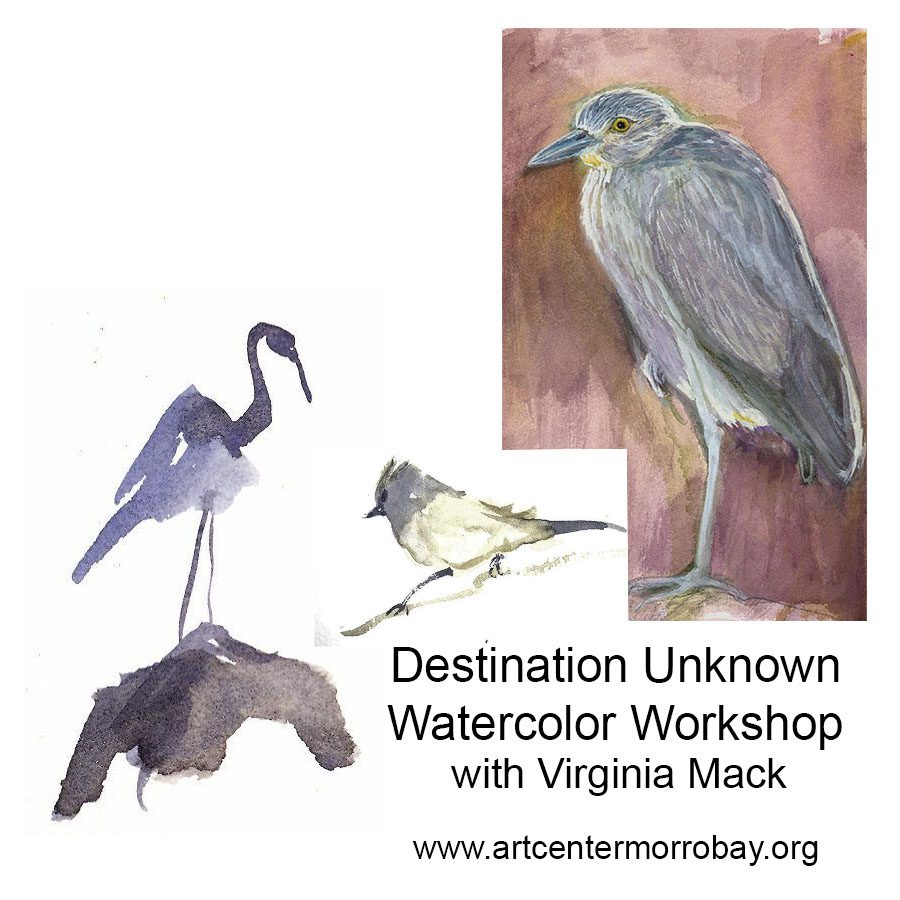 Destination Unknown - Watercolor Workshop - Jan 4, 11, 18, 25
Morro Bay Art Association is proud to present a workshop in watercolors with
artist Virginia Mack.
Are you a watercolorist? Do you have basic watercolor skills? In this series of
classes, we will use watercolors as a medium for exploration. We will explore what we can do
with color, texture, line, and light. We will also explore the effects of watercolors when mixed
with other media. The goal is to discover new, and satisfying, directions in your use of this
compelling medium. Subject matter: organic materials: sticks, plants, vegetables,
Landscapes with pathways, Seascapes with rocks, Perhaps a bird or two
About Instructor: I am a native Californian. I grew up in the SF Bay Area. I have been painting
since I was 4 years old. I have worked extensively in all painting media and in Stained Glass.
I taught Art for many years in the Bay Area before moving to the Central Coast. I have been
exploring and savoring the natural areas of the state throughout my life.
I have been living on the Central Coast for 20 years. I was a part-time instructor at Cuesta
College and Allan Hancock College in the Fine Arts departments: I taught studio arts, Art
History, and Art Appreciation.
I love to explore all parts of the county seeking subject matter for paintings. In recent years that
exploration included Kayak journeys out onto the bay. I have developed many pieces based on
studies I initiated from my kayak ("Kayak-view"). I work primarily in watercolors and am a
colorist at heart. My series of bird studies, each done within 2 minutes, before the bird flies,
swims, or walks away and my studio pieces based on my explorations of my yard (during Covid
stay-at-home) and the county are my primary subjects at present. In my most recent work, I
have been working with the relationship between birds and their environments as reflected
through various art media.
I received my education in fine arts at the University of California, Berkeley and California
College of Arts and Crafts
COST: $120.00 Members; $135.00 Non-Members for the 4 day workshop
****Basic Materials are available. Please see the materials list for additional materials
WHERE: Art Center Morro Bay, 835 Main Street, Morro Bay, CA
WHEN: Jan. 4, 11, 18, 25
TIME: 10:00 am -12:00 pm