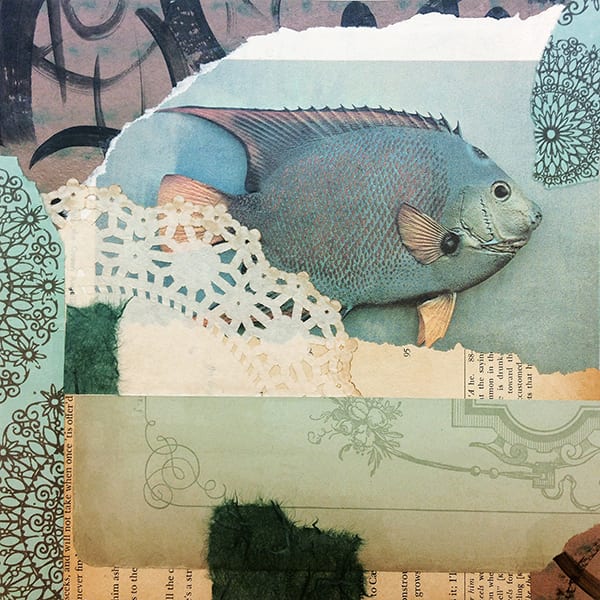 JANUARY 29 & 30, 2021 PAINTING WITH PAPER (LIVE ONLINE WORKSHOP)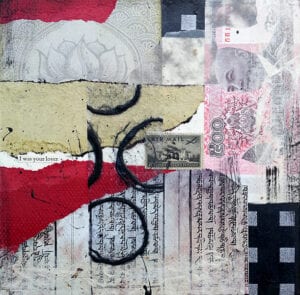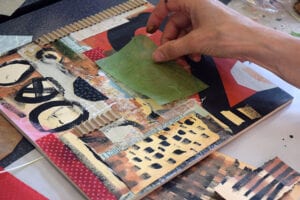 Art Center Morro Bay is happy to present Painting with Paper, an online workshop with Lisa Agaran.
Ever wondered what to do with left over birthday cards, old textbooks, event tickets and out dated wrapping paper? Before you throw them into the recycle, take a second look. What we overlook on a daily basis can be precious fragments in creating a work of art.
In this workshop you will create an engaging piece of art, using paper as the primary medium. You will learn how to pull together upcycle paper, vintage ephemera and handmade papers to create a piece that is tactile and artistically beautiful. You'll develop an eye for paper materials that can potentially create interesting backgrounds, shapes, textures and patterns.
You will also gain an understanding of how to apply a sense of composition, color schemes to create cohesiveness and harmony.
Learn the importance of layering materials from large scale to smaller, developing a sense of background and foreground. Most importantly, you will learn how to follow your creative intuition and have fun as your piece organically unfolds.  This workshop is appropriate for adults age 18+ and all levels of experience.
Lisa Agaran is a professional Mixed Media Artist. Her work has been shown in both solo and group exhibits throughout Los Angeles and New Mexico. Lisa's work has been published in Incite, Dreams Realized: The Best of Mixed Media and Incite 3: The Art of Storytelling. Lisa earned a BFA from Art Center College of Design in Pasadena and a Masters in Psychology. Prior to her art career, she worked as a Licensed Therapist (Inactive), Creativity Coach and Graphic Designer. Lisa also taught one of the core certification courses at the Creativity Coaching Association.
Integrating both her artistic and psychology background, Lisa has worked with artists and creative professionals on their careers and creative process. From her own personal experience working in the studio and facing typical challenges with the creative process, Lisa understands first hand how to work passed the blocks that keep us from accessing our True Creativity Within. She currently teaches a variety of Mixed Media workshops and classes throughout Los Angeles. Some of the locations she has taught at include the Creative Arts Group, Glendale Community College, Laguna Woods and San Clemente Art Supply. Lisa also host and leads her mixed media retreats "Awaken Your True Creativity" at various locations throughout the year.
Materials needed:
(2) 8 x 10 in. (or 9 x 12 in.) MDF Art boards (pre-primed) OR Canvas boards
Matte Medium
Tracing Paper (size should cover the size of your board)
Putty spreader or squeegee
Gesso
Acrylic paint (Black & Unbleached titanium white)
Paint brushes
Scissors
Cup for water
Collection of upcycled paper materials & ephemera to choose from (a list of suggestions & ideas will be provided upon registration).
WHAT: Painting with Paper
WHERE: Online via Zoom
WHEN: Friday & Saturday, January 29 & 30 from 10-11:30 am
COST: $45. MBAA Members or $50. Non-Members
For those unfamiliar with Zoom or feel a little intimidated by attending a workshop online.  Lisa is happy to help guide you thru the process before this workshop begins.  For questions about materials or help attending this workshop online, please contact Lisa by email: lisa.agaran@gmail.com
Refunds available up to 2 days before scheduled workshop.