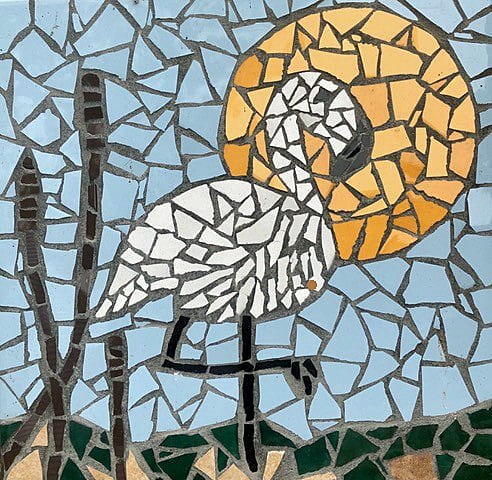 December 18 & 19, 2021 – Making a Mosaic Trivet
Morro Bay Art Association is proud to present, Making a Mosaic Trivet with the owners of Cracked Up Mosaics, Anne Hodges and Paula Hulet.
Mosaics are works of art created by using glass or ceramic tiles and grout to make a picture. They date as far back as 1500 B.C. and are found all over the world. Mosaics adorn the ceilings in cathedrals with elaborate details but can be as simple as a beautiful trivet to adorn your home.
Anne Hodges and Paul Hulet will teach you step by step, how to make a mosaic trivet.
Anne has worked in calligraphy and stained glass, focusing on mosaics for the last 10 years. She is a retired Montessori teacher and former owner of Bay Osos Montessori School in Los Osos. Paula has previously worked with fabric and decoupage but her love of gardening led her to collaborate with Anne creating beautiful mosaic pieces. Paula is a retired Pastor from the Estero Bay United Methodist Church and is currently involved with Yes, We Can Peacebuilders, nonviolence awareness classes. She can also be seen volunteering on the Embarcadero.
During this workshop you will learn how to design and create a mosaic trivet. You will learn how to select materials, lay out a pleasing pattern, and adhere the tiles to the trivet base. Anne and Paula will teach you how to properly grout and then seal your project. All materials will be supplied, however, if you have a favorite tile or ceramic pieces you may bring those and incorporate them into your project.
What a great thing to learn right before Christmas!
WHAT: Making a Mosaic Trivet
WHEN: December 18 & 19, 2021 from 1-4pm each day.
COST: $60. MBAA Members, $65. Non-Members
WHERE: Art Center Morro Bay, 835 Main Street, Morro Bay, CA 93442
Please wear facial coverings during this workshop
Pre-registration is required, contact: Art Center Morro Cay (805) 772-2504 Register Online at: www.artcentermorrobay.org