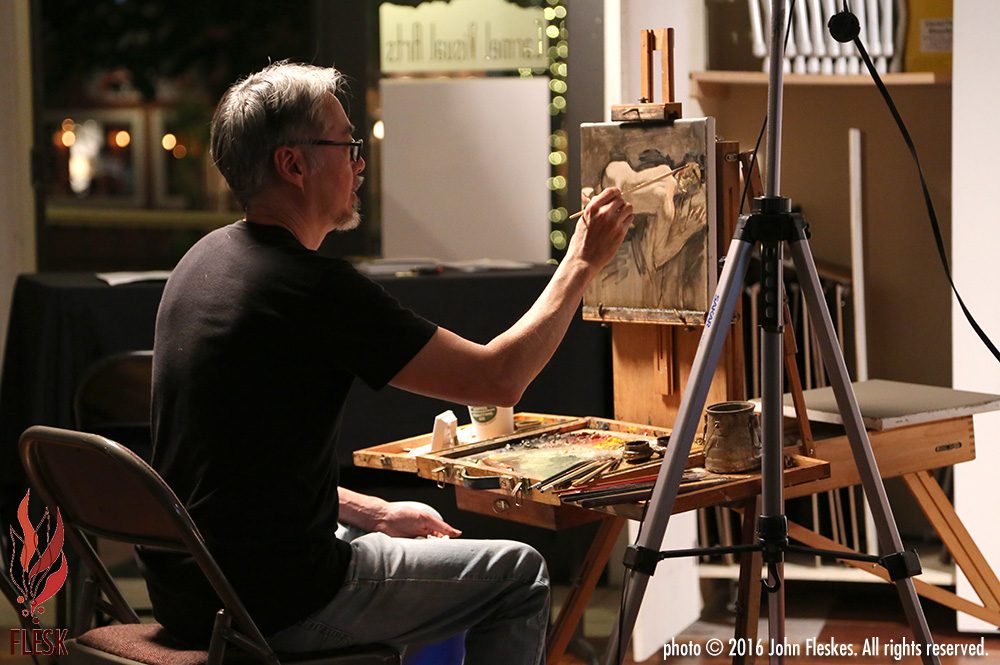 PAINTING THE HEAD IN OILS WITH WARREN CHANG, January 14 & 15, 2023
Art Center Morro Bay is proud to host a portrait workshop, Painting the Head in Oils, by Warren Chang.
In this oil painting workshop, participants will get an inside look into Warren Chang's art practice and learn how to paint a head to final painting, using a limited palette.
Warren will teach the fundamentals of Light and Shadow and how this applies to painting a portrait, demonstrating painting a head of a live model. Students will be able to get feedback directly from Warren, ask questions in an intimate class setting, and follow along with demos. This workshop will cover how to construct a human head and learn how light falls on form with regard to value and edge relationships. In addition, Warren will share his unique limited palette in applying color in the Old Masters style. Students will focus on drawing the human head and creating life-like skin tone colors.
Warren will give a slide presentation revealing his process of creating his unique narrative paintings. By the end of this 2-day workshop, each participant will have a final painting inspired by Warren's unique approach to painting that gives a window into his practice.
ABOUT THE INSTRUCTOR: Warren Chang graduated the Art Center College of
Design in 1981 and after 20 years as an award winning illustrator, embarked in a career in fine art in 2000.  His work has been recognized nationally and profiled in many art publications, including the covers of American Artist and International Artist magazines accompanying a series of 8 articles on instructional painting he authored. He is the subject of a 112 page monograph book titled: Warren Chang: Narrative Paintings published by Flesk Publications in 2013. He has been honored with solo exhibitions at the Monterey Museum of Art, the Butler Institute of American Art and most
recently at the Triton Museum in 2021. His paintings are in the permanent collection of the Monterey Museum of Art and the Hilbert Museum of California Art in Orange, Ca.
Awards include "Best of Show" at the Salon International 2003 held in San Antonio Texas, Southwest Art Award in 2008 and the Fine Art Connoisseur Award for painting in 2009, both from the California Art Club, 1st Place in the Raymar Online Art Contest in 2010 and the Dean Cornwell Award for Multi Figure Composition from the California Art
Club in 2013. He is a Signature member of the California Art Club and a Master Signature member of the Oil Painters of America.
Mr. Chang's subjects include biographical interiors and genre scenes of the fieldworkers of Monterey County where he grew up. His paintings portray the human condition, sometimes the disenfranchised while at the same time celebrating the human spirit.
Learn about drawing, values and composition in a workshop designed to create in a relaxed, informative yet focused environment for all skill levels.  This workshop will feature live models. A supply list will be provided upon registration.
Warren Chang is planning a free lecture and book signing, following his workshop! Don't miss a rare opportunity to learn more about Mr. Chang and take home a signed book!
WHAT: PAINTING THE HEAD IN OILS WITH WARREN CHANG
WHEN: January 14-15, 2023, 9:30am - 4:30pm
WHERE: ART CENTER MORRO BAY, 835 Main Street, Morro Bay, CA 93442
COST:  $500.MBAA Members or $510. Non Members, 2-day workshop
PRE-REGISTRATION: https://artcentermorrobay.org/index.php/products/
May cancel registration up to 7 days of scheduled workshop for full refund. Students may be asked to wear a mask.
This workshop is limited! To add your name to a wait list, please contact Kirsti Wothe.
Kirsti Wothe
(805) 996-0937
Director of Adult Education
Art Center Morro Bay