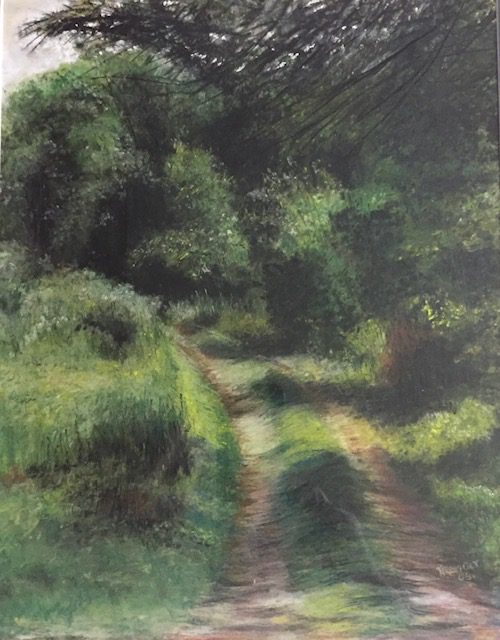 March, 19, 20 & 21, 2022 - PASTEL MAGIC - 3-DAY WORKSHOP
WORKSHOP – PASTEL MAGIC
Morro Bay Art Association is proud to present a workshop in soft pastel by award winning artist, Greg Trombly.
Discover the magic of soft pastels in a relaxed and supportive environment, focusing on basic drawing and observation skills. This workshop will delve into subject matter relating to the beautiful greens of forest foliage, shorelines and shadows that cast from sunlit skies.  An emphasis will be placed on composition, color and value.  Students are encouraged to bring a reference photo, however photos will be provided for those who do not bring their own. Greg will begin each day with a short demonstration, followed by independent work with plenty of instruction.
Dr. Greg Trombly holds undergraduate and graduate degrees in Education from State University of New York at Oswego and State University of New York at Albany. In addition, he holds a PhD in the Cultural Foundations of Education from Union Institute and University, Cincinnati, Ohio. Greg has been an educator and administrator for the public school system and at the university level. He has continued art education by participating in workshops from acclaimed artists such as Terri Ludwig and Daniel Greene. He exhibits artwork in New York and his artwork is held in private collections throughout the country.
Connect with other artists and learn basic skills in soft pastel.  This class is not utilizing oil pastel, rather "soft pastel". This workshop is designed for beginners and appropriate for intermediate artists. A materials list will be provided.
Greg will give an interactive demonstration of soft pastels prior to this workshop on Monday, March 14, 2022 from 3-5pm.  This demo is free and open to the public.
COST: $165. Members; $175. Non-Members for the 3-day workshop.
WHERE: Art Center Morro Bay, 835 Main Street, Morro Bay, CA
WHEN: March 19, 20 & 21, 2022, 1-4pm
PRE-REGISTER: Reserve your space online: https://artcentermorrobay.org/index.php/shop/
May cancel registration up to 7 days of scheduled workshop for full refund.
CONTACT: 805-772-2504 or www.artcentermorrobay.org
MATERIAL LIST: Registrants will be provided a materials list following registration.
Please wear facial coverings during this workshop.