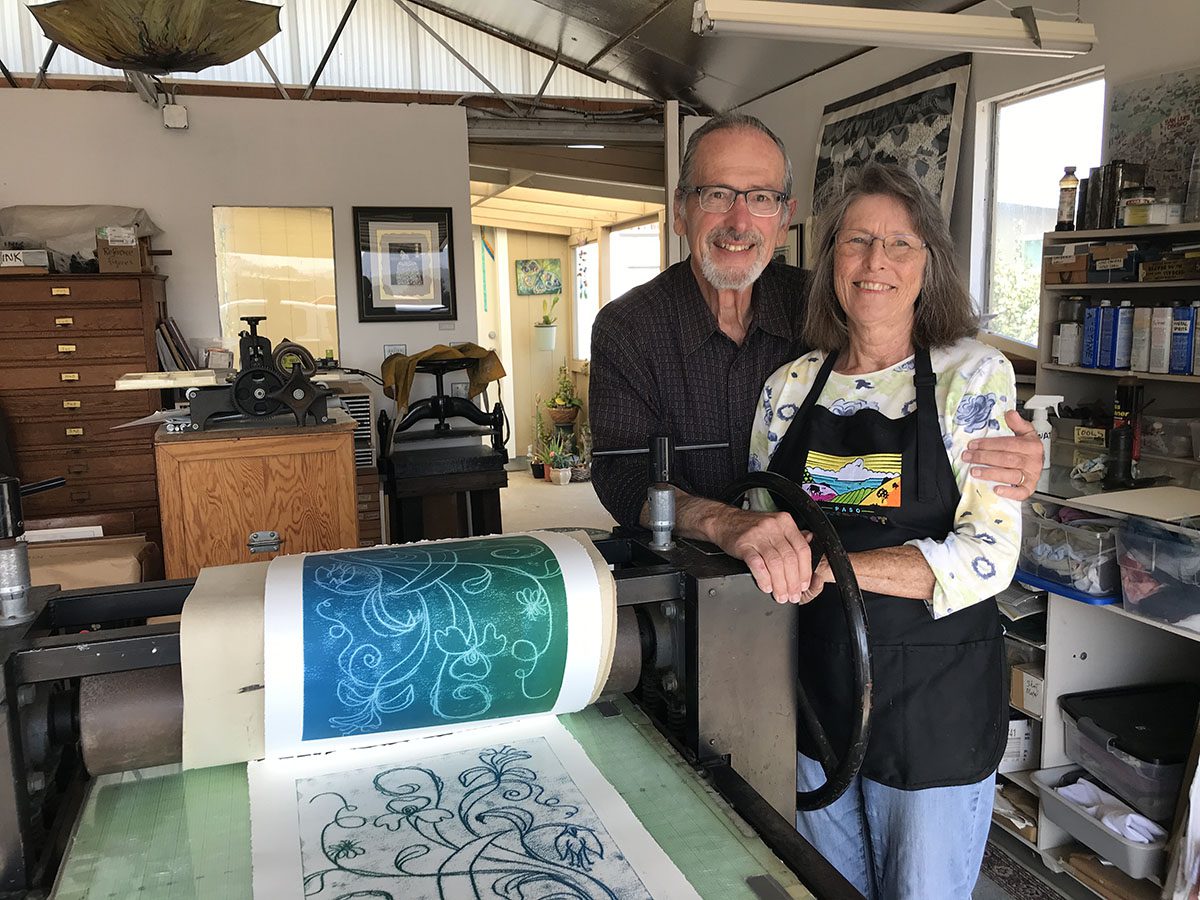 "Printing With & Without a Press" Workshop - June 11-12, 2022
Morro Bay Art Association is proud to present a workshop in printmaking with
artists Rosey and Barbara Rosenthal.
Class description: The Central Coast Printmakers will be leading a workshop in printmaking. You
will learn the difference between relief and intaglio as you work on a linoleum plate. You will
use cutting tools in a way that you can print in relief by hand (as you could continue at home).
You will also be taught to ink your plate in the intaglio method (think etching and engraving)
and print it with an etching press. In this way you will have a good introduction to two common
printmaking techniques without the use of acid on a metal plate. Experienced printmakers will
enjoy experimenting with this process as well.
Materials: linoleum plates, papers, inks and use of tools and other materials are all Included.
Bring your own notebook, apron; personal gloves are optional.  We have disposable gloves in a
rather large size for inking and cleanup.
About Instructors: Barbara and Rosey, your instructors for this workshop, love sharing their
passion for printmaking.  Printmaking and teaching have been the foundation of their careers
for fifty years, and since 1981 on the Central Coast.  Rosey first learned printmaking at Pratt
Institute and Barbara first learned from him.  Together they have continued to study and
develop their own techniques, including working with printmakers in Granada, Spain, for two
years.  You will be in good hands with two skilled teachers.
COST: $100.00 Members; $135.00 Non-Members
***Materials fee is included with the 2-day class
WHERE: Art Center Morro Bay, 835 Main Street, Morro Bay, CA
WHEN: June 11-12, 2022
TIME: 10:00 am - 3:00 pm with an hour lunch break. Bring your own lunch or enjoy the local
restaurants
PRE-REGISTER: Reserve your space online: https://artcentermorrobay.org/index.php/shop/
May cancel registration up to 7 days of scheduled workshop for full refund.
CONTACT: 805-772-2504 or www.artcentermorrobay.org
Students may be asked to wear a mask.