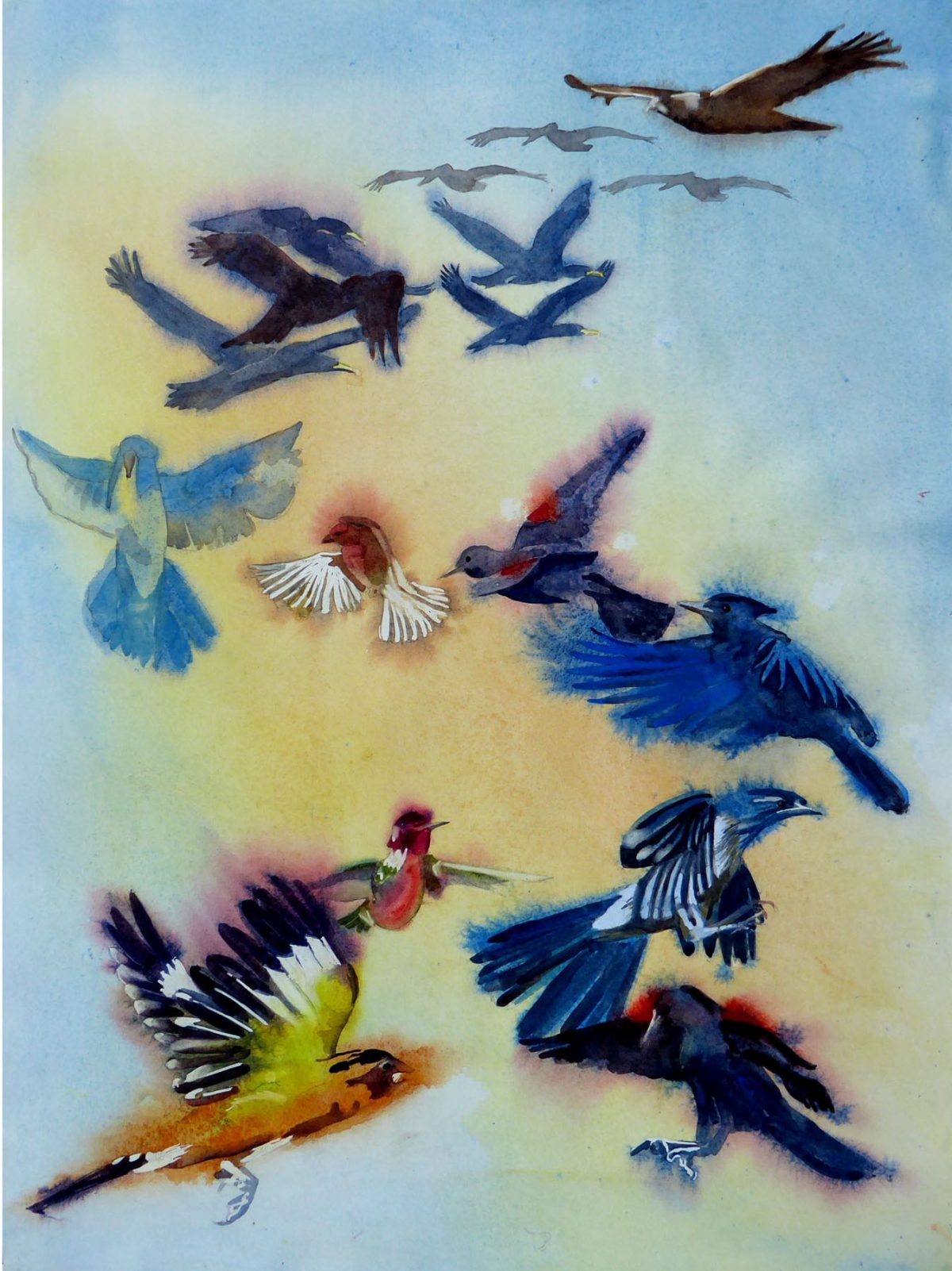 Splashes and Puddles: Part 2 (Thursdays) - April,  7, 14, 21, 28. 2022
Splashes and Puddles – Watercolor Workshop
Art Center Morro Bay is proud to present a workshop in watercolor with artist, Jo Swanberg.
Learn to paint in watercolor using unexpected materials to paint without tiny brushes. The goal of this class is to demystify watercolor. You will learn how to splash paint on paper, make color theory your own, and to look at sky shapes to empower your designs. The media may not be confined to watercolor. I will encourage experimenting if you want to add other media to watercolor. Watercolor can be enhanced with pastel, collage, gouache, acrylic and even drawing with a white Crayola. Let's experiment!
"I am a watercolorist. I love to paint outdoors but I also paint in the studio. The most important things to me are composition and why I am creating that particular piece . I take the elements and principles of art seriously. To me, media isn't important, composition is. Painting is painting. My motto is, There are no rules in art only suggestions."
About Instructor: Ardella Swanberg was born and raised in California, earned a BS in Art Education from the University of Minnesota in 1968. She has followed her husband around the world. The last 50+ years she spent raising two children, freelance art teaching, plein air painting, visiting world museums, and cooking many thousands of meals. Her interests are painting, making books and keeping Journals, drawing the nude, making dolls, reading novels and artist biographies, genealogy, emergency communication and amateur radio. Her work has been exhibited throughout the United States, Italy and Malaysia. She loves looking at all kinds of art and attempts most styles. Since moving to Cayucos in 1998, she has served on the boards of several art groups and radio clubs, and taught watercolor and oil painting to the Cuesta College Emeritus program. She has lived in Morro Bay since 2015.
COST: $160.00 Members; $180.00 Non-Members for each 4-day workshop.
WHERE: Art Center Morro Bay, 835 Main Street, Morro Bay, CA
WHEN: Part 2, (Thursdays) April,  7, 14, 21, 28. 2022
TIME: 10am – 12pm
PRE-REGISTER: Reserve your space online: https://artcentermorrobay.org/index.php/shop/
CONTACT: 805-772-2504 or www.artcentermorrobay.org
May cancel registration up to 7 days of scheduled workshop for full refund. All attendees must wear a mask and show proof of Covid Vaccine on first day of class.
Descriptions of Classes
Second part April,Thursdays, 10-12 noon, 7, 14, 21, 28,
Lesson 5. Step by step painting a portrait—This will be a quick lesson on the proportions of the face and how to use washes to make skin tones.
Lesson 6. Principles of Design—You are ready to paint from your own photo or sketch with a knowledge of unity, variety, contrast, harmony, balance repetition and center of interest. These principles will help you analyze your own paintings.
Lesson 7. Simplifying your painting—You learn to simplify shapes and try several color schemes for an exciting painting
Lesson 8. How to save a bad painting—You will use the principles and elements of art to analyze your own paintings and others.
Suggested Materials list:
#2 pencil
Kneadable eraser
Two sheets of Aquarius cold press, 140# —You will learn how to tear it neatly into the size you like best.
Paint-- DaVinci or other professional U.S. Brands. Colors: quinacridone rose, cobalt blue, Hansa or Lemon yellow, Phthalo blue ,and a warm red to make dark without using black.
Brushes--#6 round and 1/2" flat
Water jar
Palette—Quiller travel size palette would be nice. It is in the shape of a color wheel.
Paper towels