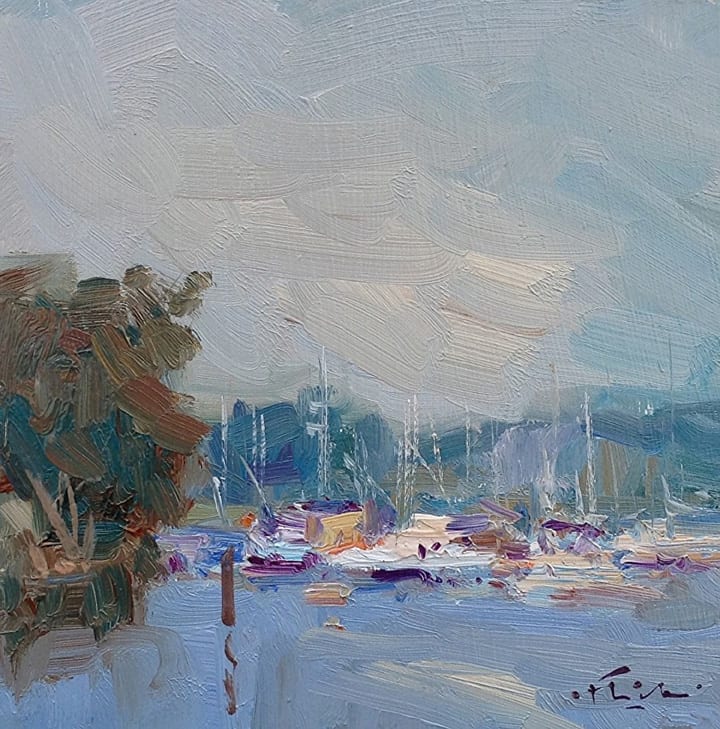 April 2020 – PLEIN AIR STILL-LIFE AND LANDSCAPE
$385.00 – $395.00
Description
Morro Bay Art Association is proud to present International, plein air artist and instructor, Guido Frick.
Guido Frick was born in Konstanz, Germany and studied art in Prague Czechoslovakia.  Professor Emeritus Dr. Janos Herczeg; University of Szeged, Hungary, refers to Frick as the "living" Bongart.
Mr. Frick teaches his Impressionistic style throughout Europe and America's western states. Capturing the mood, with oil and watercolor, he approaches each subject with bold and vigorous brushwork, using brilliant color.  Frick relays, "As a painter I do not like to be labeled. I am always crossing the borderline between Impressionism and Expressionism.  In art there should be no borders, no fences, no stop signs. To learn how to paint means to learn how to see."
Frick is represented by New Masters Gallery, Carmel CA, Sunset Art Gallery, Amarillo, TX, Evergreen Fine Art Gallery, Evergreen CO, Bebb Fine Art, Ludlow, England and Galerie See Motive, Konstanz, Germany.
Frick has been featured in numerous periodicals and magazines throughout Europe and the U.S. to include, Art Journey America Landscapes: 89 Painters' Perspectives by Kathy Kipp, Maler sehen den Bodensee: 200 Jahre Landschaftsmalerei aus privatem Besitz by Carlo Karrenbauer, Southwest Art, American Artist Workshop, Art of the West, Art Talk, Western Art Collector Magazine and Oil Painting with the Masters by North Light Books.
During this workshop, Guido will teach you how to interpret and translate what you are seeing to a canvas and develop your own artistic language.  He will discuss the use of colors, values, mood, drama and atmosphere while painting outdoors.
Day 1:  Students will be work on a still-life of choice, while painting outdoors to capture the complexity of color working in sunlight. There will be an introduction and theoretical instruction followed by a demo, then students will paint.
Day 2:  Students will be a paint plein air landscape at a location to be determined.  A full landscape demo will be provided. Guido will circulate giving personal instruction.  At the end of each session he will be able to critic your work giving you individual ideas and personalized help.
All levels are welcome. You may choose to paint in oil, acrylic or watercolor.  Contact Gail Martin for a supply list.
Join Guido Frick for a free demonstration, Monday, April 13, 2020, 3-5pm
WHAT: Plein Air Still-Life and Landscape
WHEN: Tuesday, Wednesday April 14-15, 2020
COST:  $385.00 members – $395.00 non-members
WHERE: Art Center Morro Bay, 835 Main Street, Morro Bay, CA 93442
Pre-registration is requiredhttps://artcentermorrobay.org/index.php/shop/or (805) 772-2504
For more information, www.artcentermorrobay.orgor Gail Martin Gailm1314@gmail.com (805)234-8766