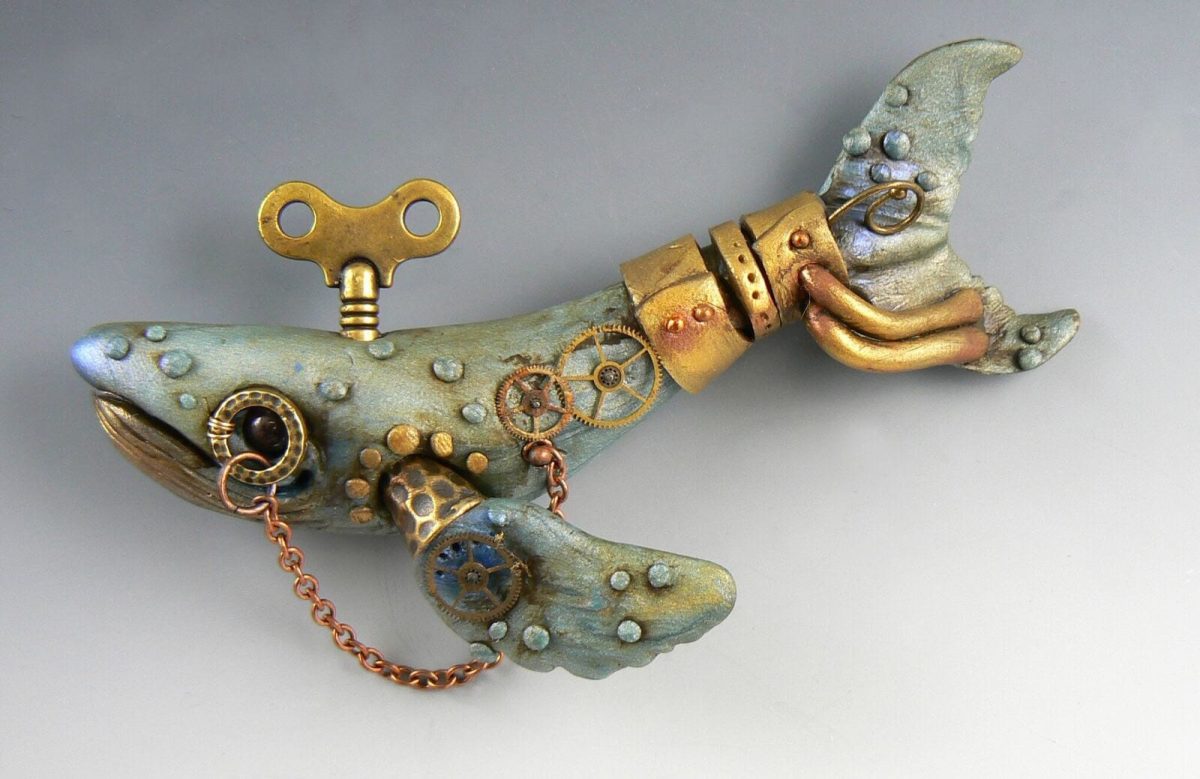 April 27, 2019 – Polymer Clay, Steampunk Whale
$55.00 – $65.00
Description
Join us for a special meet and greet, 4-26 at 4-6pm
Morro Bay Art Association is proud to present world renowned mixed media artist, Christi Friesen for three individual polymer clay workshops.
Christi is an award-winning artist, specializing in polymer clay, embellished with mixed media. She uses a variety of gems, pearls, beads, fiber, artifacts, metal and found objects in her jewelry, figurines, vessels, 2-dimensional art and sculpture.
Christi teaches throughout the United States, France, Italy, Ireland, Australia, Japan, and Cruise ships. Throughout the world, Christi uses humor and positive energy to encourage students to stretch their creativity, technical skills and artistic confidence.
Her work explores the exuberance of life, stating, "It seems to me that one of the joys in life is to be interested. Interested in what you do, interested in what surrounds you, interested in what you experience."
Christi has been featured in numerous publications, juried exhibits and competitions. She has authored eleven how-to books on the subject of creating with polymer clay and has her own line of water-based metallic paints.
Steampunk Whale
You will have a whale of a time in this workshop. You will create a fun whale using polymer clay, then embellish it with mixed media in a steampunk style. Not into steampunk? Use crystals for a bling whale! Or leave it au naturelle.
The finished piece can be a brooch, pendant or a small wall piece. All materials are provided. Just bring a smile!  All skill levels welcome, no prior experience required.
Special Meet & Greet with the Instructor, April 26th, 4:00 pm-6:00 pm 
WHAT: Working in Polymer Clay – Steampunk Whale
WHERE: Art Center Morro Bay, 835 Main Street, Morro Bay, CA
WORKSHOP DATE: April 27, 10am – 1pm
COST: $55members/$65non-members
REGISTER: Pre-register at www.artcentermorrobay.org
Or artcentermorrobay.org/index.php/shop/
CONTACT: (805) 772-2504 or www.artcentermorrobay.org
May cancel registration up to 10 days of scheduled workshop for full refund.