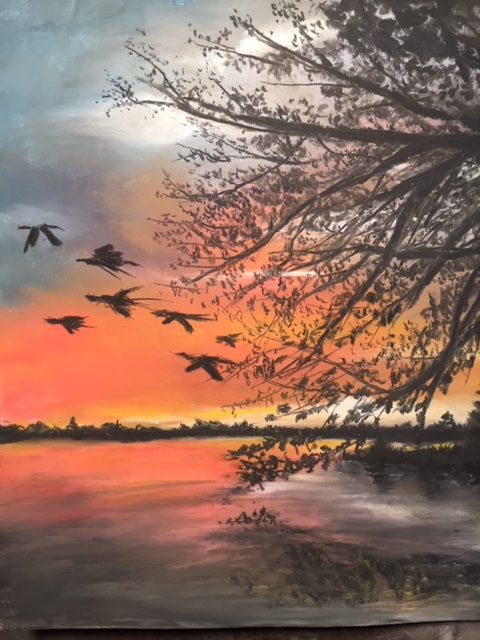 February 2021 – Sunsets and Birds
$165.00 – $175.00
Description
The Morro Bay Art Association presents a soft pastel workshop series with award-winning artist Greg Trombly, February 17, 18 & 19, 2021, from 1 to 4 p.m.
This course is designed to provide hands-on guidance to students and focuses on basic drawing and observation skills. Emphasis will be placed on composition, color, and value.
Trombly will begin each class with a short demonstration. Participants will then complete independent work from personal reference photos and Trombly's guidance. Students are encouraged to bring a reference photo of a sunset, shoreline, or birds for these classes. Images, also provided by Trombly, available for your use.
Dr. Greg Trombly holds undergraduate and graduate degrees in Education from State University of New York at Oswego and State University of New York at Albany. In addition, he holds a PhD in the Cultural Foundations of Education from Union Institute and University, Cincinnati, Ohio. 
The workshop begins with an introduction to soft pastel and a sunset demonstration on Feb 17 and then builds on what you've learned throughout the 3-day workshop.
Greg Trombly will be giving a free demonstration of pastel on Feb. 8th, from 3-5pm at Art Center Morro Bay.
COST: $165. Members; $175. non-Members for the 3-day workshop.
WHERE: Art Center Morro Bay, 835 Main Street, Morro Bay, CA 
WHEN: February 17-19, 2021, 1-4pm 
PRE-REGISTER: Reserve your space online: https://artcentermorrobay.org/index.php/shop/
May cancel registration up to 7 days of scheduled workshop for full refund.
CONTACT: 805-772-2504 or www.artcentermorrobay.org
MATERIAL LIST: Materials list can be found at the gallery or contact Gail Martin at gailm1314@gmail.com to request one.