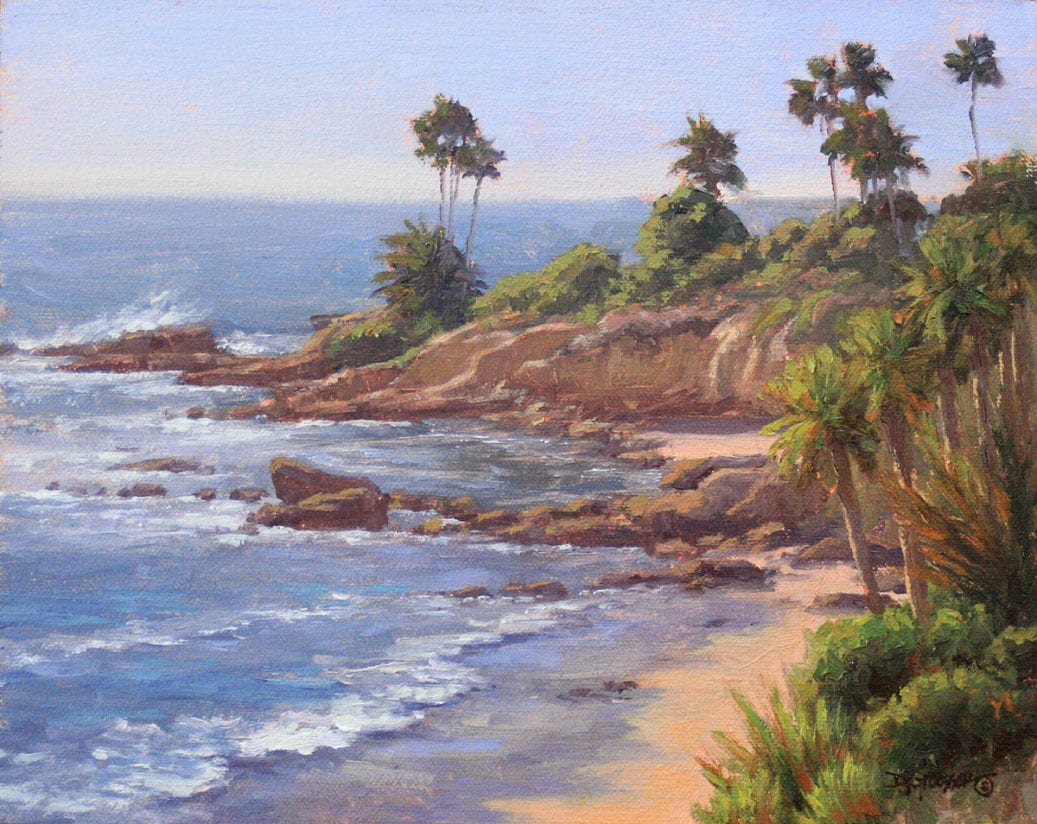 Joy of Plein Air Landscape Painting in Oil
Product Description
Morro Bay Art Association is proud to present, Joy of Plein Air Landscape Painting, a 3-day workshop by award winning artist, Debra Joy Groesser.
Debra Groesser earned a Bachelor of Fine Art degree from Bellevue College, Bellevue, Nebraska.  Debra paints many subjects, however, is noted for her impressionistic style, plein air landscape work.  Debra states, "Painting is such a spiritual experience for me. Nothing inspires me more than being out on location, capturing the subtle nuances of color, light and atmosphere that can only be achieved by painting from nature. Debra also paints portraits and figurative works. In 2011, she was commissioned by Omaha Performing Arts to create a large portrait of Richard and Mary Holland, which hangs at the Holland Performing Arts Center in Omaha, Nebraska.
Debra is a signature member and President/CEO of the American Impressionist Society, a Master Signature member of Plein Air Artists, Colorado, a Signature member of Laguna Plein Air Painters Association and American Plains Artists. She is an elected artist member of Rocky Mountain Plein Air Painters and the Salmagundi Club in New York. Her work has been featured in several national art publications including Art of the West, American Art Collector, Southwest Art and a feature article in the October/November 2014 issue of Plein Air Magazine.  She was a finalist in Southwest Art Magazine's 2012 Artistic Excellence competition. Debra was a faculty member for the 2014 and 2015 Plein Air Conventions in Monterey, California
Debra is represented by SouthWind Art Gallery, Topeka KS, Mary Williams Fine Art, Boulder CO, Vanessa Rothe Fine Art, Laguna Beach CA, Montgomery-Lee Fine Art, Park City UT and The Mission Gallery, St. George UT.
Prior to the workshop, Debra will give a demonstration, free and open to the public on Monday, June 11, 2018, 3-5pm.  This workshop will begin with an indoor class encompassing preparation, use of value and tools.  The following 2 days will be held out of doors, on location.  This schedule may be modified, due to inclement weather.
This workshop is appropriate for beginners to advanced.
https://www.youtube.com/watch?v=sCdd1H0eWcs
WHAT: Joy of Plein Air Landscape Painting workshop
WHEN: June, 12, 2018, 9am – 5pm (Classroom).  June 13 & 14, 2018, 8am – 4pm on location.
COST:  $375. MBAA Members or $400. Non Members
WHERE: Demonstration and Classroom: Art Center Morro Bay, 835 Main Street, Morro Bay, CA 93442.  Outdoor location to be determined.
CONTACT:  Lynn Douglass 661- 619-2461 or Patricia Newton 805-423-1100