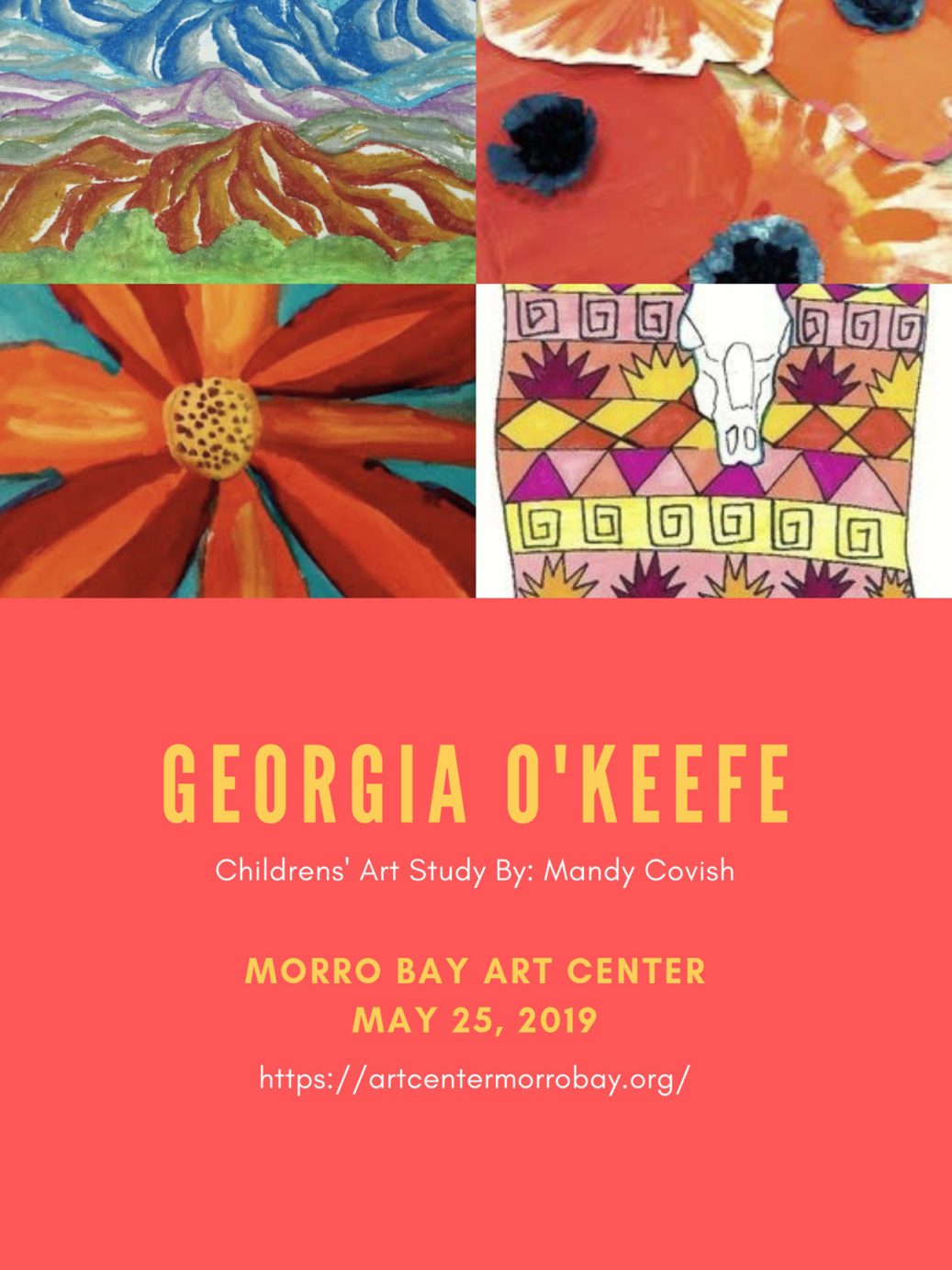 May 25, Georgia O'Keefe – Meet the Masters Children's Art Classes
$20.00
Description
Morro Bay Art Association is proud to present Mandy Covish, Elementary School Teacher for ongoing art classes designed to reach children between Kindergarten and 6th grades.
Mandy has taught primarily 2nd and 3rd grade levels in the Merced City School District and Clovis Unified School district. With her recent relocation to the Central Coast she is eager to begin teaching on the Central Coast. Mandy taught GATE students (Gifted and Talented Education) for seven years, emphasizing on the arts as a vehicle to promote higher thought processes. She worked as the Reading Intervention Teacher and successfully implemented a fluency and comprehension program through Read Naturally, Soar to Success, Seeing Stars utilizing appropriate leveled books for grades K-6.
In the "Meet the Masters" classes; each session will focus on one of the great art masters. (Dates of featured artist below).
Mandy will engage students with short videos and hands on learning.
During the first session featuring Pablo Picasso, K-2nd will make faces in the style of Picasso including Rose Period Painted Circles and Blue Period Collages. Children in third to six grade levels will make Picasso cardboard masks, Cubist Portraits with newspaper and Blue Period Guitars. Each session will feature a different artist with learning and activities illustrating their artistic style.
Parents must accompany K-2nd graders.
WHAT: Meet the Masters Children's Art Classes
CLASS DATES MARCH THROUGH NOVEMBER, 2019:
May 25th: GeorgiaO'Keefe – Students will be working on Oil Pastel Landscapes, Acrylic Tempera Flowers, & Classic O'Keefe "Skull Rugs" on tagboard with crayola markers, paint, & yarn.
October 12th: Andy Warhol
October 13th: Yayoi Kusama
November 2nd:: Vincent van Gogh
TIMES: K-2nd Graders 9am-12pm 3rd-6th Graders 1pm – 4pm
WHERE: Art Center Morro Bay, Activities Room, 835 Main St, Morro Bay, CA 93442
Preregistration is required: Contact Art Center Morro Bay (805) 772-2504 or online: https://artcentermorrobay.org/index.php/shop/