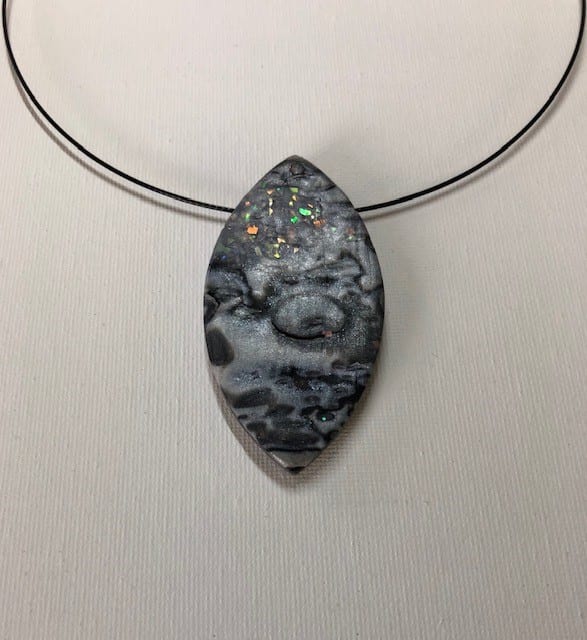 August 8, 2020 – Introduction to Mokume Gane
$50.00 – $55.00
Description
Introduction to Mokume Gane
Morro Bay Art Association is proud to present a ½ day workshop, Introduction to Mokume Gane, with artist Jane Morgan. Mokume Gane is a traditional Japanese technique of laminating layers of colored metal and manipulating the result to create patterns.  Polymer clay lends itself well to using a
modification of this technique.
During this class we will create beautiful designs using a modified Mokume Gane technique. We will then create veneers from the resultant designs and use those veneers to create a lovely and unique piece of jewelry. No two pieces are ever alike!  Students will also be shown how to incorporate their Mokume Gane designs into larger and more complex pieces of work. All experience levels welcomed.
Jane is an engineer, sociologist and educator. Her polymer clay work has been praised by nationally known polymer clay artists, which varies from precise technical work to organically inspired pieces. She finds peace in the creative process and loves to teach . Along with polymer clay, Jane has exhibited fused glass at several local venues.
WHAT: Polymer Clay – Jewelry Making Mokume Gane Technique
WHEN: August 8, 2020 – 1am-4pm
WHERE: Art Center Morro Bay, 835 Main St. Morro Bay, CA 93442
COST: $50. MBAA Members $55. Non Members
$5. Materials fee paid to instructor the night of the workshop
CONTACT: Art Center Morro Bay (805) 772-2504, www.artcentermorrobay.org
Pre-registration is required:
Register Online: www.artcentermorrobay.org
Refunds for cancellations up to 7 days before workshop