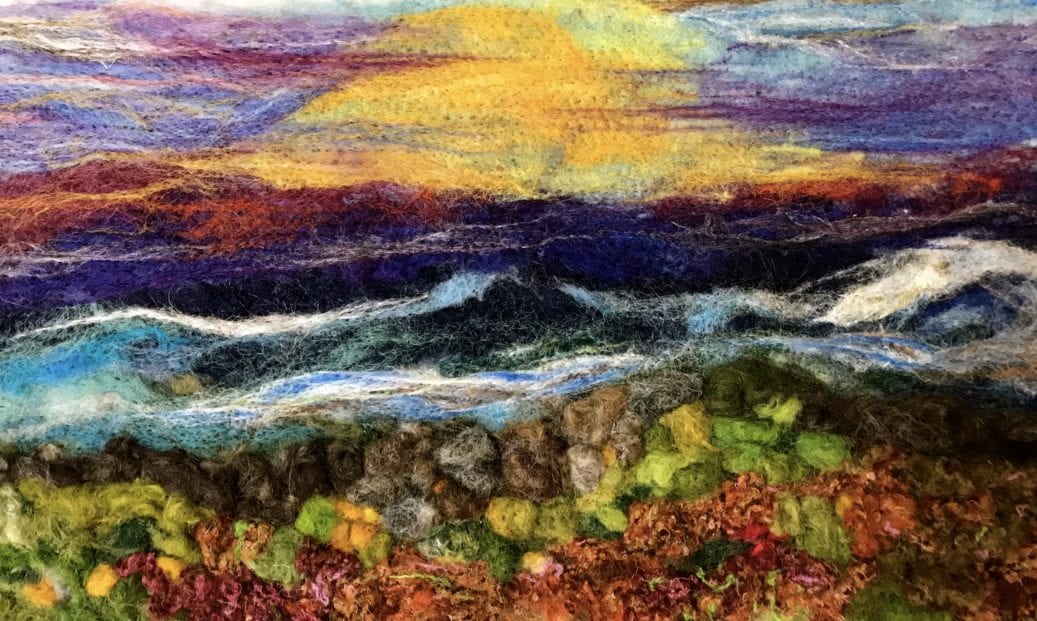 October 2019 – Needle Felt and Fiber Landscape Painting
$220.00 – $225.00
Description
Morro Bay Art Association is proud to present felting and fiber landscape artist, Debbie Gedayloo.
Debbie has a 30-year history of teaching art to adults and children. While teaching English as a second language, Debbie used visual art to help educate her students.  Her love of creativity and self expression blossomed into fiber art. "Wool is such a tactile medium with a personality that yearns to be drawn forth".  Debbie designed and painted a cow for the 2016 San Luis Obispo County Cow Parade and has participated in Imadonnari street painting festivals in San Luis Obispo, Santa Barbara, Temecula, Carlsbad, Laguna Niguel, Ventura and Prescott.
During this three-day workshop, Debbie will demonstrate a new twist on felting and fiber-painting. Students will be creating individual landscapes using wool, yarn, string, beads, shells and more. Landscapes as a topic, will allow for endless expression for each participant. Whether you are an experienced artist or a first-time creator, this workshop will open your eyes to a new medium, using felting and fiber as art. All skill levels are welcome.
WHAT: Needle Felt and Fiber Landscape Painting
WHEN: October 25th, 2019 5:30pm – 8:00pm, October 26 & 27, 2019 9am – 4pm
WHERE: Art Center Morro Bay, 835 Main Street, Morro Bay, CA 93442
COST: $220.00 MBAA Members, $225.00 Non Members
Pre-registration is required, contact: Art Center Morro Cay (805) 772-2504
Register Online at: www.artcentermorrobay.org, https://artcentermorrobay.org/index.php/shop/