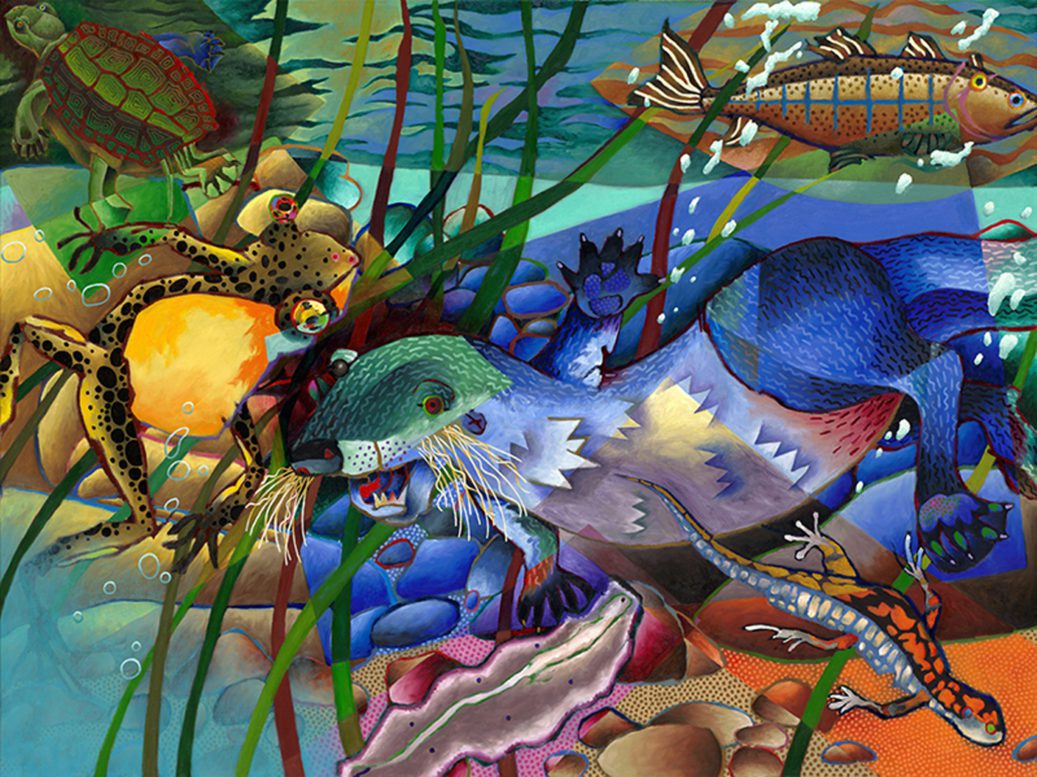 October 9, 10, & 11, 2020 – Abstraction and Multiple Viewpoint Perspective
$400.00 – $425.00
Description
Morro Bay Art Association is proud to present a 3-day workshop, Abstraction and Multiple Viewpoint Perspective, with Trowzers Akimbo.
While Multiple Viewpoint Perspective will be the main focus of this intensive workshop, other abstraction vehicles will also be discussed and encouraged. The workshop goal will be for each attendee to go home with an abstract painting of their own design.

Trowzers Akimbo was raised in Venice, Ca and the eclectic vibe of the area is represented in much of his work.  The art colony esthetic of the beach town attracted the best of art teachers to the school system and Betty Edwards, who wrote the influential book, "Drawing on the Right Side of the Brain" was among his talented high school art teachers. Teachers in art school included Bill Moore, Don Graham, Harold Kramer, Emerson Woelffer and one of the Group of Seven hard-edged painters, Frederick Hammersley. Prior to practicing fine art painting full-time, Trowzers worked as an NBC on air graphic artist, freelance illustrator/graphic designer, animated/live action tv commercial director/designer and as a creative director and chief creative officer in the computer game industry. Work for NBC included over 200 commercial segue illustrations for the Tonight Show, starring Johnny Carson, design of The Gong Show logo and body painting of GoGo dancers for Laugh-In.  Trowzers contributed illustrations to the Sesame Street Workshop's printed publications monthly. He is responsible for the creation of over 50 computer games. Among his many awards, Akimbo was awarded an Emmy for his animated titles for NBC: The First 50 Years: A Closer Look.  Powerful influences in his painting work are Braque and Picasso (how can these two inventors of cubism and multiple viewpoint perspective, standing on the shoulders of Cézanne, not be an influence), Matisse, Gauguin, Lautrec, Van Gogh, Klee and Kandinsky.
Akimbo studied art and received his BFA at CalArts in Southern California.
"Honestly, I'm a bit of a sponge. I believe any painter's work I've ever seen has influenced my work on some level."
                                                                                               – Trowzers Akimbo
3-Day Workshop Agenda
Methods of Abstraction slide Presentation
Multiple Viewpoint Perspective Fundamentals
Sketching Information from the Model for Your Final Design
Designing Your Abstract Painting
Compose/Layout Your Painting
Discussion of the 5 Graphic Means
Let's Paint Your Design
Critique of Paintings
What you'll need to bring:
Canvas, panel or other painting substrate

Painting supplies (oils, acrylics, pastels, watercolors, etc.)

Graphite pencil and eraser

Sketchbook or paper pad

Optional tools (Charcoal pencil, drawing pen, etc.)

Bag lunch (or plan to go out to lunch)


WHAT: Abstraction and Multiple Viewpoint Perspective
WHEN: October 9th, 10th, & 11th, 2020  – 10am-4pm
WHERE: Art Center Morro Bay, 835 Main St. Morro Bay, CA 93442
COST: $400. MBAA Members    $425. Non-Members*
CONTACT: Art Center Morro Bay (805) 772-2504, www.artcentermorrobay.org
Pre-registration is required.
Register Online: artcentermorrobay.org/index.php/shop/
Refunds for cancellations up to 7 days before workshop