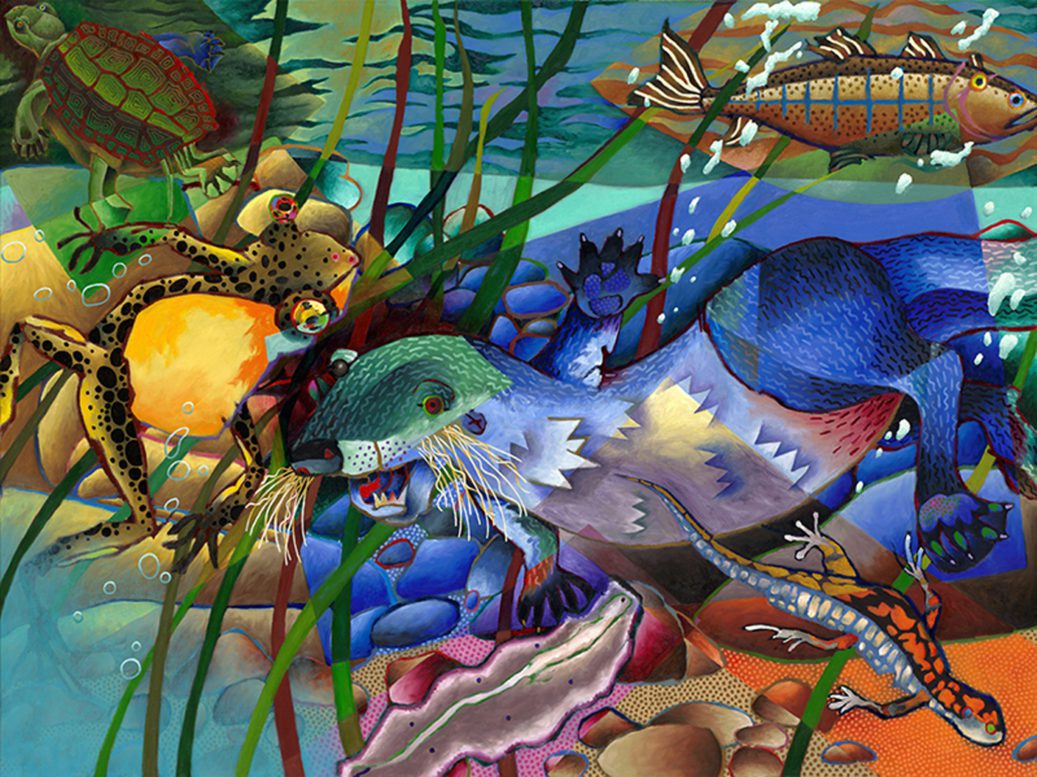 October 9, 10, & 11, 2020 – Abstraction and Multiple Viewpoint Perspective
$400.00 – $425.00
Description
Abstraction & Multiple Viewpoint Perspective
3 Day Workshop with Trowzers Akimbo
October 9 th – 11 th 10am-4pm
Morro Bay Art Association presents Trowzers Akimbo 3-Day workshop Abstraction & Multiple Viewpoint Perspective via ZOOM.
Learn from this amazing artist right from your home. Stay connected with other artists and have fun in this zoom workshop. In organic art, with its floating structure orbiting a nodal point, one invites multiple perspectives, existing in a similarly fluid temporal reality, which are assembled by the viewer to create a single composite image. Our gaze wanders through the picture, turning this way and that, zooming in,
panning out, the image held together by its own internal design. We will be playing with tension between 2-D pattern and 3-D depth. We see it in the works of Pablo Picasso and Georges
The workshop goal is to introduce and explore the fascination of Multiple Viewpoint Perspective and for each attendee to go home with an abstract painting of their own design. Akimbo studied art and received his BFA at CalArts in Southern California. Trowzers Akimbo was raised in Venice, CA and the eclectic vibe of the area is represented in much of his work.
The art colony esthetic of the beach town attracted the best of art teachers to the school system and Betty Edwards, who wrote the influential book, "Drawing on the Right Side of the Brain" was among his talented high school art teachers
"Honestly, I'm a bit of a sponge. I believe any painter's work I've ever seen has influenced my
work on some level."- Trowzers Akimbo
What you'll need have prior to the Zoom Workshop:
 Canvas, panel or other painting substrate
 Painting supplies (oils, acrylics, pastels, watercolors, etc.)
 Graphite pencil and eraser
 Sketchbook or paper pad
 Optional tools (Charcoal pencil, drawing pen, etc.)
Methods of Abstraction slide Presentation
Multiple Viewpoint Perspective Fundamentals
Sketching Information from the Model for Your Final Design
Designing Your Abstract Painting
Compose/Layout Your Painting
Discussion of the 5 Graphic Means
WHAT: Abstraction and Multiple Viewpoint Perspective
WHEN: October 9th, 10th, & 11th, 2020 – 10am-4pm
WHERE: ZOOM INSTRUCTIONS WILL BE EMAILED TO YOU PRIOR TO WORKSHOP
COST: $400. MBAA Members $425. Non-Members*
CONTACT: Art Center Morro Bay (805) 772-2504, www.artcentermorrobay.org
Pre-registration is required.
Register Online: artcentermorrobay.org/index.php/shop/
Refunds for cancellations up to 7 days before workshop