Now Showing
November 9 – December 31
Winter Faire & Juried Craft Show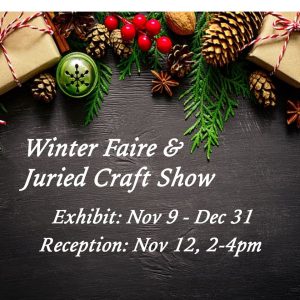 Morro Bay Art Association is proud to present The Annual Winter Faire & Juried Craft Show, featuring some of the finest artworks on the Central Coast.
This very special holiday event offers a collection of exceptional paintings, photography and fine crafts, spanning a variety of artistic mediums from traditional to contemporary. Crafts include fiber, wood, glass, sculpture, pottery, jewelry and more.
Whether you're attending this extraordinary exhibit to observe or to find that perfect holiday gift, you are in for a unique treat!
For the Birds Exhibit
January 4, 2024 to February 20, 2024
Reception: Sunday, January 7, 2024 from 2-4pm
MBAA invites you to join us for our 8th annual "For the Birds" exhibit. This exhibit is held in conjunction with the Morro Bay Annual Bird Festival, a yearly event promoting an understanding and appreciation of birds and other wildlife, and an awareness of environmental and conservation issues of the Central Coast. Birders from all over the United States come together to experience our wonderful and diversified ecosystem on the West Coast of California. Artists have been asked to share their artistic talents with the many visitors attending the Festival through art that celebrates the varieties of birds and other wildlife, and their habitats, in our area.
Located on the Pacific Flyway, Morro Bay is a globally Important Bird Area and a designated State and National Estuary.  Morro Coast Audubon Society ranks in the top five for the yearly
Audubon Christmas Bird Count.  In most years, over 200 different bird species are spotted during the annual count.  The visiting public and festival attendees are encouraged to visit the
MBAA Gallery and the opening reception on January 7, 2024 to see work honoring this event.
COST: FREE
CONTACT: (805) 772-2504, or via our contact form.