Now Showing
September 21 – November 6
Opening Reception: September 24, 2-4pm
 Brushstrokes 2023
Morro Bay Art Association is proud to host, The Painter's Group TPG from San Luis Obispo, CA and their compelling, juried exhibit, "Brushstrokes 2023."
This annual event is a collection of exceptional paintings in all media, featuring works from current TPG and MBAA members, & CA artists.
Juror Anne Laddon selected a variety of paintings using diverse mediums including acrylic, oil, mixed media, watercolor, pastel and digital, encompassing a wide range of subject matter, figurative works, landscapes and abstract designs.
Whether you are attending this extraordinary exhibit to observe or to purchase, you are in for a delight!
Inspiration
How does a work of art begin? What germinates the seed and how do we grow it? What motivates us to pick up a paintbrush or visualize a complex idea in a piece of glass? What drives us to bring something intangible – like the feelings of fear or sorrow – to that tangible place where others can experience it, too, and maybe even participate in the artist's own creative catharsis?
For centuries, masters like Picasso and Monet (and even Warhol, in a more controversial way) have practiced appropriation as inspiration when they reinterpreted the aesthetics of other artists and their work to inspire new and unique masterpieces of their own. What triggers creative inspiration can begin with a spark or connection in viewing the work of another artist. Or it can be something as sensory and unassuming as the smell of rain on the parched Carrizo Plains in California. Or as life changing, still, as the Covid pandemic, or news headlines that overwhelm us daily concerning war, climate change, or the strife in Ukraine.
And, too, it can be the more silent voice from within as we gaze at our reflection in a mirror.
In the exhibit "Inspiration," we ask artists to take us on a personal journey for an eclectic exhibit showcasing a variety of platforms, mediums and ideas. Each piece is accompanied by a short statement by the artist describing the source of inspiration behind it.
Featured Artist – Jack Mettier
Morro Bay Art Association is proud to feature the ceramic pottery of Jack Mettier.
Jack has over 60 years of experience as a ceramicist. He earned a B.A. in Ceramic and M.A. in Art with Ceramics and Glass concentration followed by operating a private Glassblowing Studio in the Santa Cruz mountains. Jack has thirty-five years of experience teaching ceramics, art and jewelry experience. He taught art and ceramics at Paso Robles High School and was the Chairman of the Visual and Performing Arts Department there. At Taft College he taught ceramics and jewelry and was Director of the Art Gallery as well as Chairman of the Fine Arts Department.
After 60 years working with clay and creating various forms of ceramics his current work represents a step in his ever-evolving creative process.
"There is a sense of the undefined, raw mystery in each piece that is created by the development of the very refined, traditional ceramic vessel form, that with my unique firing process has been "assaulted" (reminiscent of the destruction of a culture or a civilization) to create these deceptively simple, unique, one-of-a-kind, functional, artistic vessels."
Upcoming Exhibits
November 9 – December 31
Winter Faire & Juried Craft Show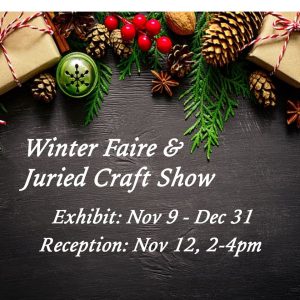 Morro Bay Art Association is proud to present The Annual Winter Faire & Juried Craft Show, featuring some of the finest artworks on the Central Coast.
This very special holiday event offers a collection of exceptional paintings, photography and fine crafts, spanning a variety of artistic mediums from traditional to contemporary. Crafts include fiber, wood, glass, sculpture, pottery, jewelry and more.
Whether you're attending this extraordinary exhibit to observe or to find that perfect holiday gift, you are in for a unique treat!