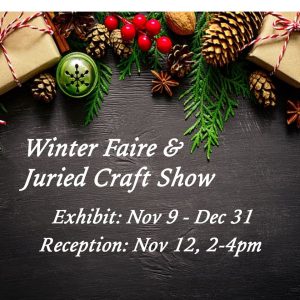 Winter Faire
Art Center Morro Bay is proud to present the annual Winter Faire & Juried Craft Show, featuring some of the finest artworks on the Central Coast.
This special holiday event is open to all artists, providing an opportunity to exhibit paintings, photography, sculpture and fine crafts. This exhibit is open to all mediums and subject matter. Crafts include, but not limited to fiber, wood, glass, sculpture, pottery and jewelry.
This fine art exhibit is designed for customers who are holiday shopping and looking for special gift ideas!
Artists are invited to submit up to (3) wall hung 2D pieces, (10) note cards, (5) portfolio prints, up to (12) jewelry pieces, (3) large sculptures and/or (12) craft items.
Please print entry forms and submit with your artwork on Tuesday, November 7, 2023 from 10am – 2pm.
Submission information, fees and entry forms: artcentermorrobay.org/index.php/entry-forms/