PAINT OUTS
Wednesday mornings
9:30am – 12pm
All paint out meetups are FREE and will begin at 9:30 on location. If you need a ride email the group to car pool or reach out to Kirsti- mrswothe@yahoo.com. Lunch and optional critique to follow at 12:00 pm at agreed upon location near the initial meeting. All levels and all mediums welcome.
May Paint Outs:
May 3 – North Point Natural Area
Location directions: from Hwy 1 heading North turn left on Yerba Buena St. then turn right on Toro Ln. drive straight up to the small parking lot at the end of Torro Ln. there are trails and benches as well as stairs down to the beach. This is spectacular spot for painting and whale watching. So many great options. The weather is predicting rain so please check the weather before heading out.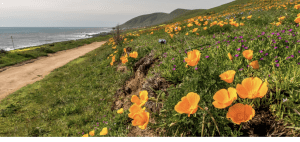 May 10- Harmony Headlands State Park
Harmony Headlands State Park preserves an undeveloped parcel of Pacific coast in California, United States. Located in San Luis Obispo County on Highway 1, the park is the only public access to the coast between the towns of Cayucos and Harmony. The 748-acre park was established in 2003. The Cayucos Land Conservancy helped facilitate and fund the park's development. Harmony Headlands State Park is open for day-use only.
Driving Directions to Harmony Headlands SP: Harmony Headlands is about 7 miles north of the town of Cayucos and about 7 miles south of Cambria on Hwy 1. The parking area for the hike-only trail is just off Hwy 1 at Sea West Dr.
https://www.parks.ca.gov/?page_id=25735
May 17 – Montaña de Oro Spooner's Cove and Trail Head
Park at Spooners Cove to meet with the group then set you your easel where ever you fancy. So many wildflowers!
https://www.parks.ca.gov/?page_id=592
May 24 – Estero Bluffs Historic Windmill
This area is full of beautiful wildflowers and coastal views.
May 31 Evening Paint Out- Moonstone Beach Bar and Grill
The last Wednesday each month is our scheduled nocturne paint out and dinner. We will meet for dinner at 5 pm and then go to our painting locations. This is a very fun evening.RSVP by May 25 for dinner: mrswothe@yahoo.com. This restaurant is very popular and tables fill up fast. We will need to reserve a table early.