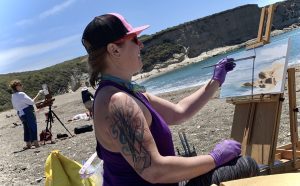 MEET ON LOCATION
Wednesday mornings
9:30am – 12pm
Wednesday morning paint outs are FREE!  We meet at pre-selected locations. If you need a ride email the group to car pool or reach out to Kirsti- mrswothe@yahoo.com. Lunch and optional critique to follow at 12pm at agreed upon location near the initial meeting. All levels and all mediums welcome. 
September Paint-Outs:
Sept. 21 Castoro Cellers Vinyards and Winery
– this is a reserved paint out please RSVP. Wine tasting at 12 noon. You may bring your own lunch or snack on their delicious charcuteries. Castoro will be opening their gates for us at 9:30. 
https://castorocellars.com/ 
  ****Please send an email to Kirsti if you are coming. Mrswothe@yahoo.com  Make sure to give the number of guests in your party so that the reservation can be adjusted to the number of people. The winery is a beautiful peaceful location and worth your time there.
September Nocturne- Sept. 28 meet for dinner @ 5:30 at Schooners
for dinner and paint out begins at 7:00pm "Paint the Town" of Cayucos. 
https://www.schoonerscayucos.com/