All Art Demonstrations are Open to the Public and take place from 3-5 pm At Art Center Morro Bay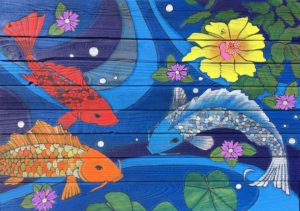 October 9 – Artful Images on Everyday Objects with Carol Manuputy
Art Center Morro Bay is happy to present a demonstration with artist and teacher Carol Manuputy. Carol represents 1/2 of the Peaceful Planet Design team that also includes her husband, Richard. They have designed textiles, murals, paintings, and sculptures for hospitals, schools, and other public buildings throughout California since 1986.
Carol was born in Rochester, NY, and holds a BA in applied Art from Cal Poly. She has taught at the SLO Art Center, public and private schools, and in their studio in Los Osos, where Richard also teaches yoga and plays guitar.
In this interactive demonstration, you will be making art that is collaborative, fun and surprising: an immersion into their philosophy of making beauty from everyday objects.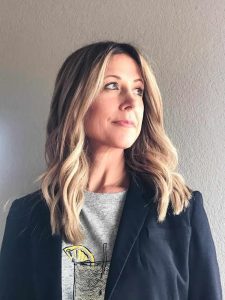 November 13 – Paint Your Pet with Karen Blaney
Morro Bay Art Association is proud to present, "Paint Your Pet", an interactive demonstration.
Although Karyn Blaney has a fine art degree from Kent State University with a concentration in printmaking, she never wants to be restricted to one medium. Whether it's paint, ink, pencil or paper, Karyn lets whatever subject she's working with dictate the creative process. Karyn pulls from images and memories that excite her and hold her attention. From movie scenes to people she connects with or passes on the street, Karyn finds inspiration everywhere. Her resulting creations feature loose brushstrokes and a dreamy feel to a uniquely Impressionistic style.
Karyn started ArtSocial805, a traveling art studio, 8 years ago on the central coast, and is based in Paso Robles. She has instructed thousands of people from ages 5 to 95 since the business' start. She has branched out into specialized classes featuring Paint Your Pet, Homeschooling, Glow events, Watercolor Bar by ArtSocial805 and so much more.
For more information visit www.artsocial805.com.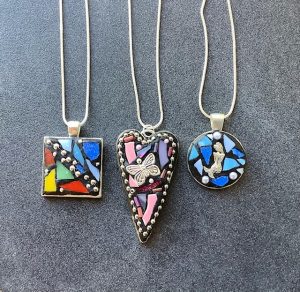 December 11 – Mosaic Jewelry with Joan Martin Fee
Morro Bay Art Association is proud to present a hands-on demonstration of mosaic jewelry!
Joan Martin Fee is a craft designer, a television personality, author and instruction and magazine editor. She is also the owner of Creative Me Time, offering interactive workshops throughout the Central Coast.
Her creative journey began in 1990 when she submitted her ideas to the "Aleene's Creative Living" television show and was asked to demonstrate her "Dress Up Dolly" idea, using shrink wrap. Since then, she has worked for the largest manufacturers in the craft industry. Today she is widely known and appreciated for her ability to make people feel special through their creations.
During this demonstration, Joan will show you how to make beautiful jewelry just in time for the holidays. And don't be surprised by the many participants reciting all of the Creative Me Time workshops they have participated in!